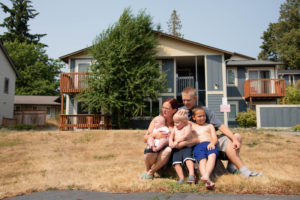 During last weekend's wind storm, an accidental fire broke out in one of our transitional housing apartments at Salisbury Court in Kirkland. Thankfully, no client families were physically harmed, but the unit where the fire started is a total loss and there were damages to the other nearby units, as well. The client and her child who were living there are safe and are being relocated to another unoccupied unit. Thanks to our mental health program, we are able to tend to our clients' emotional well-being and have offered counseling to address the trauma for all involved. Unfortunately, all of the impacted client's furniture and many of the family's belongings are gone.
We are so grateful for the Kirkland Fire Department's swift response in putting out the fire quickly and ensuring no families were hurt, but now we need the help of our Caring Community to both refurnish our client's home and help us repair the damage to Salisbury Court.
Here is a list of specific items our client needs.
If you are able to donate and transport any of these items, please email Eric@attainhousing.org and we will coordinate drop-offs.
UPDATE 11/3, most items have been taken care of, but if you have any of the following and can provide transport, let us know.
Nightstand table
Lamp
Microwave
If you'd like to make a cash donation online to help us completely rebuild and remodel the damaged apartment unit, we would be so incredibly grateful for your generosity. Please click here to give. We truly appreciate your support as we work through this crisis.