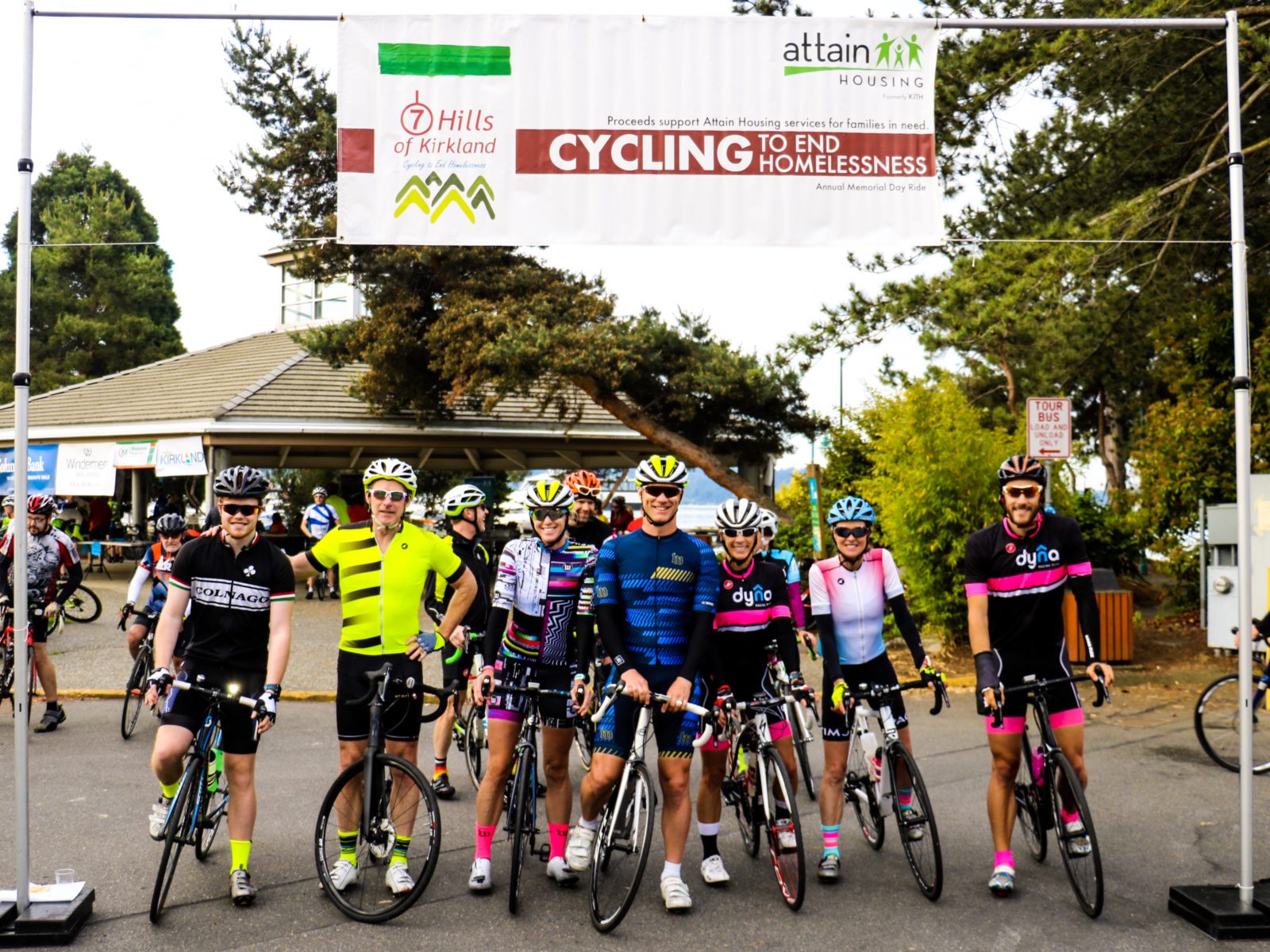 Been out of the loop? Here's what Attain Housing has been up to lately
It's been a busy 2019 for Attain Housing. Here are the highlights!
7 Hills of Kirkland: We want to give a huge thank you to the nearly 900 riders who courageously took on the 7 Hills course this year and helped support our mission of serving homeless and at-risk families! Extra special thanks to 100 or so volunteers who make this event run smoothly and successfully every year! From the people working the aid stations keep-ing the riders hydrated and fed, to the support riders and drivers on the course, and all the helpers at the finish line at Marina Park. We couldn't do it without you.
Additional gratitude goes to our awesome sponsors: Windermere Real Estate Kirkland and Bellevue, Columbia Bank, Kirkland Kiwanis, Flatstick Pub, Kirkland Rotary, Merit Homes, Inc., Minuteman Press of Kirkland, and #ExploreKirkland.
We hope everyone had an excellent ride and we'll see you on Memorial Day 2020!
Donor Appreciation Social: On June 13, Peggy and John Walton hosted our annual Donor Appreciation Social at their home in the West of Market neighborhood. It was a lovely evening of gratitude, idea- sharing, and just good getting-to-know-you conversation with many of our longtime supporters.
Staff Updates: Carmelita Parraz, longtime case manager and manager of facilities, resigned her post in early August in advance of giving birth to her and her husband's daughter, Dylan. We wish Carmelita all the best!
Case Manager Greg McLeod was recently promoted to Program Services Manager. Congratulations, Greg!
Darlene Jones recently joined our team as our part-time Stable Home Advocate. With Darlene's help, our staff is able to process Stable Home applications more efficiently and help even more people in need.
Our Case Management team will have a new member in late September as we welcome Jessica Billington to the fold. Jessica previously worked as a Site Director for Mary's Place and brings a wealth of social work experience with her to Attain Housing.
In Memoriam:
Bill Fores
As a former board member, Bill chaired the 7 Hills of Kirkland planning committee back when it was
a totally volunteer-run event, logging many hours to make sure the event was a fun, safe event and a successful fundraiser for KITH/Attain Housing. Bill brought a ton of positive energy to the board and we can't thank him enough for all the work he did for our organization.
Doreen Marchione
Doreen spent a lifetime working for the greater civic good on the Eastside, including many years as a board member and advisory board member for Attain Housing. She served as the Mayor of Redmond from 1984 – 1991, managed as the CEO of Hopelink for 15 years, and then served on the Kirkland City Council until 2017.
Summer 2019 Newsletter Contents