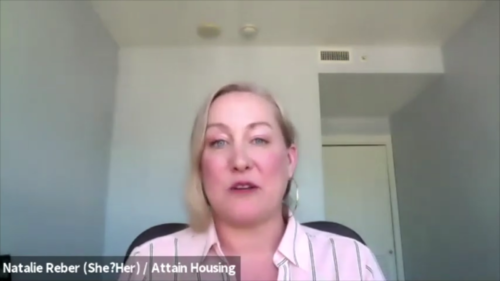 Our latest Attain Explains session was a fun chat between our new Executive Director Natalie Reber and our supporters. Natalie discusses her nonprofit background, her leadership philosophy, and her plans and goals for the future of Attain Housing. If you missed the session,
we've got it posted on YouTube
so you can watch it at your leisure. Here are some relevant timestamps to help you navigate the session.
Welcome and introduction – 0:00-2:20
Natalie introduces herself, talks about her personal background – 2:25
Natalie talks about her nonprofit leadership experience – 4:55
Leadership style and philosophy – 6:37

Her favorite boss and leadership example – 9:40

Questions and introductions from audience – 10:55

Rob Scarber – 11:15
Mike Connolly – 13:30
Dave Paremski – 14:15
Jen Boone – 16:33

Jen asks about Natalie's approach to applying a race and equity lens to her nonprofit work

Natalie talks about her perspective on the evolving state of the COVID-19 pandemic and the ways it will continue to impact the families we serve – 20:00
Question from board member Toby Nixon on transitional housing versus permanent supportive housing – 22:22
Natalie describes her first three weeks on the job – 28:52
Natalie talks about her law background and how she applies it to her nonprofit work – 31:44
Mike asks about the forecast for resuming Community Supper and other in-person events – 34:00
Advice from attendees on the best ways to get more familiar with the Eastside communities Attain serves – 36:34
Natalie asks Jen to give an overview of City of Kirkland's Human Services Division – 39:36
Rapid fire fun questions: favorite foods, sports teams, and more! – 42:20
We practice our Attain Housing elevator pitches – 49:09
Stay tuned for details on the next session coming later this fall.
Watch here
.