A recap of our Affordable Housing Week event
By Carol Ryan, Development Director
Spending your 15-minute work break making calls for rental assistance. Calling back up to 20 agencies every two weeks to make sure the family's name doesn't fall off a waitlist for permanent housing. Driving your kids from your budget hotel in Kent to Bellevue every school day to make sure their education stays on track.
These are just some of the realities that neighbors in Kirkland and Bellevue struggling to stay housed shared at the event, "Affordable Housing: Why is it so dang hard?" Wednesday, May 15, at Holy Spirit Lutheran Church in
Kirkland.
These neighbors told how a life event—for one, a partner's sudden death, for another, getting laid off—spiraled them into a housing crisis. With the number of affordable units on the Eastside shrinking and rents going up every year, finding housing and staying housed is extremely challenging, they said. There were also several mentions of the impact of having an eviction on your record and the impossibility of finding future housing. "Even if you paid off your eviction, landlords don't want to talk to you. It is so discouraging."
"I just kept my faith," said one Attain Housing client, Johnny. "That's all I could do."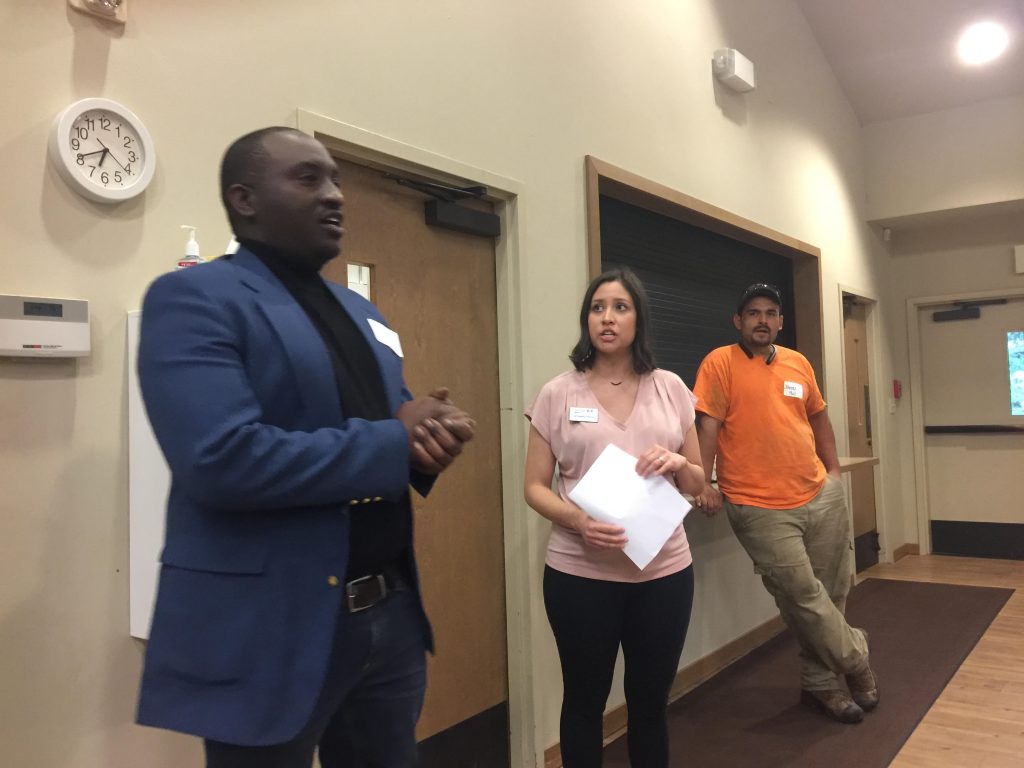 Part of Affordable Housing Week, the May 15 event was organized by a coalition of Eastside providers, including Attain Housing, Tech 4 Housing, The Sofia Way, and Lifewire. The individuals who shared their personal stories ranged from extremely low incomes of less than 30% of the area median income, to those earning almost 80%. And yet their stories were
agonizingly similar.
Tech 4 Housing's Calvin Jones urged those attending to speak out on behalf of their neighbors' housing struggles at city council meetings and other public forums.  
Attain Housing client Alicia and her daughter were among those who shared their experiences at the event.
"I'm looking for anything to keep us stable," Alicia said.
Laid off from her job as a recruiter, single mom Alicia struggles to keep her daughter in the Bellevue school where she is overcoming her dyslexia with the help of caring teachers, loving friends, and an individual education plan. Alicia continues to struggle to find a landlord who is willing to accept rental assistance funds.
"I don't even mention that I'm looking for 'affordable housing,'" Alicia said. "You can see their face change and all of a sudden they're not interested in renting to you."
Former Attain Housing client Guillaume shared his story of finding stability here on the Eastside after he, his wife, and children immigrated here from Africa.
"My case managers did all they could to make sure within two years we'd be able to rent our own house."
Guillaume and his family were able to recently secure permanent housing. He estimates that he submitted at least 20 applications to local affordable housing complexes and needed to follow-up almost daily to ensure he remained on the wait list. It was very hard while trying to work full-time and maintain his family.
Understanding affordability housing struggles in our community is the first step toward advocacy and we want to thank everyone who attended the event and also give thanks to our clients who shared their stories.