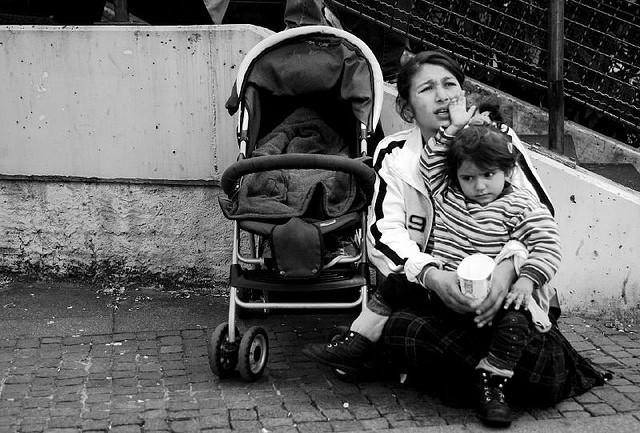 Attain Housing Case Managers guide clients to a safer future for their families
Over 75 percent of Attain Housing client families consist of a single mother and her kids. Nearly half of these women have experienced domestic violence and for almost all of them, it's the direct reason why they are experiencing homelessness.
It's a massive cultural problem in our society, but domestic violence is not often thought of by most as a cause of homelessness.
"You can't look at someone and say, "Oh that person has experienced domestic violence,'" said Greg McLeod, our Program Services Manager. "With some drug addiction and mental health issues, it can be more apparent. Single parents are among the unseen homeless rather than the 'seen' homeless because parents tend to be a bit more creative in finding ways to keep themselves and their children out of the public eye."
For mothers who have lost their housing and are suffering in silence from the physical and mental pain inflicted upon them by their abusers, Attain Housing and other low-income housing providers are often the first step in a long road back to stability, and it's not always a linear path.
"The Housing First modality is especially helpful for people dealing with domestic violence and mental health issues," Greg said. "When you and your kids are homeless, you don't have time to worry about counseling or addressing trauma. You're worried about where you're going to sleep and how you're going to get food for you and your kids."
Once a family has a stable place to live, they can catch their breath, Greg said. And that's when many parents will start to notice the psychological and physiological traumatic effects of domestic violence and abuse.
"That's where our Case Managers play an important role during check-ins and conversations. Whether it's to give recommendations on counseling and treatment, or to just be a confident ear to clients who need to vent."
Our Case Managers also witness how domestic violence impacts the children in our housing. The stability of a safe home gives children the space to thrive, but just like for their parents, it allows for the trauma stemming from the domestic violence they witnessed to bubble to the surface.
"Once the kids are stable and out of survival mode, we tend to see the behavioral issues become more obvious, especially for school-aged kids," said Megan Gililland, one of our Case Managers. "We get them connected with resources at their school or outside sources of therapy, whatever is most accessible for them."
The Cycle of Violence
For many families, the healing process is full of setbacks and danger depending on the proximity and persistence of the abuser.
"It can be very frustrating," Megan said. "Sometimes the abuser just continues to track them down, which ruins the sense of safety they've worked so hard to create. It's also frustrating if the client won't cut off contact with the abuser completely. Megan stated that there are many reasons for that. If the abuser is the father of their children, there is a lot of guilt and shaming that goes along with that so that opens the door again for the abusive partner to re-enter the picture.
"It's our role to have a conversation with the client to help them figure out what kind relationship they want to have with the father in the future and suggest some safer ways to do that," Megan said.
Helping clients with establishing a legal order of protection whenever possible is an important step of the process. It gives the client some power to legally keep their abuser away from them and their kids. But, there are limitations to that system.
"I've had clients who have tried to get a protection order, but the abuser just somehow kept dodging getting served the notice, which is vital to completing the protection order," Megan said.
Greg pointed out that one of the strengths of our transitional housing program is the perspective our Case Managers gain when they regularly meet with clients in their homes (during non-pandemic circumstances, of course).
"We see who comes and goes," Greg said. "If I see someone questionable around our properties, I'm going to ask questions. We strive to hold clients accountable because the judgment of abuse victims can get clouded. We're helping people to develop positive habits and encouraging them to not have contact with their abusers."
The insidious, traumatic affects and consequences of domestic violence make it one of the greatest challenges we face as transitional housing providers to homeless and at-risk families. Our case managers are here to help abuse victims rebuild their lives and to provide a safe harbor from the storm.
"Safety is the number one concern for our families," Greg said. "Domestic violence, just like homelessness and generational poverty, is cyclical and we're trying to help people break that cycle."
Domestic Violence Community Resources:
24-Hour Domestic Violence Helpline: 425-746-1940 or 1-800-827-8840
LifeWire of Bellevue – Provides a range of services to domestic violence survivors; including advocacy, support group, mental health therapy, legal advocacy, and housing. Crisis Line: 425-746-1940
King County Sexual Assault Resource Center provides support, tools, and direct services to sexual assault victims and their families. 24-hour Resource Line: 888-99-VOICE
Washington State Coalition Against Domestic Violence has a comprehensive listing of services searchable by county and city: https://wscadv.org
Eastside Legal Assistance Program (ELAP) provides legal aid to survivors of domestic violence throughout all of King County and can assist with protection orders: 425-747-7274