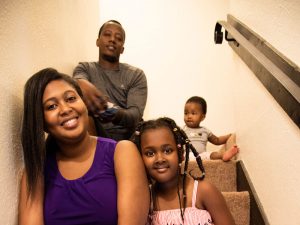 During these stressful and anxiety-producing times, the families currently living in Attain Housing's Transitional Housing units are doing their best to stay calm and be supportive of one another.
"Now that the spotlight has moved on geographically from Kirkland, clients are getting used to the situation and adjusting pretty well to social distancing and staying home," said Megan, one of our Case Managers. "Compared to where we were a few weeks ago, things are much calmer now."
Despite these times of social distancing, there is still much kindness in our community. Megan relayed a story of a client with an auto-immune deficiency who reached out for help on her neighborhood Facebook group.
"The friends and family in the area she'd been relying on to help her get supplies were no longer available to help for a few days," Megan said. "So she posted online and a neighbor responded who agreed to go get groceries for her and drop them off at her home."
Program Services Manager Greg has also noticed an overall increase in calmness among client families.
"People are staying home, putting differences aside, and looking out for each other," Greg said. "People are still uneasy about the whole situation, but our Case Managers have been checking in very frequently and giving clients a chance to vent and I think that really goes a long way in relieving some tension."
The economic impacts of the COVID-19 crisis are continuing to be felt. The 2-week "Stay Home" order by Governor Inslee, which mandated that non-essential businesses close, has impacted the jobs of more residents. We now know that over 50% of our clients have been financially impacted. One client who works for Door Dash has seen a huge downturn in deliveries on the Eastside since the "Stay Home" order went into effect, even though many restaurants are still offering delivery options.
Things have seemed bleak at times, but we'll get this through this together, one day at a time! If you would like to help our clients please donate here.